Pre-K–3rd Grade Literacy Partnerships
Focus on Pre-K–3rd Grade Readers at All Levels
Groves Literacy Partnerships teams with fellow educators to share our evidence-based literacy instruction so all students can learn to read. In particular, we illuminate the path to enhanced literacy for struggling readers in Pre-K–3rd grade. Students must developmentally appropriate literacy skills tended to during these crucial years. Starting in 4th grade, students begin reading to learn.
Ready to Learn More About Groves Literacy Partnerships?
Groves Literacy Partnerships make it possible to help all students shine brightly through the same evidence-based literacy instruction used by Groves Academy. Please complete the form below to request information on Pre-K–3rd grade literacy partnerships.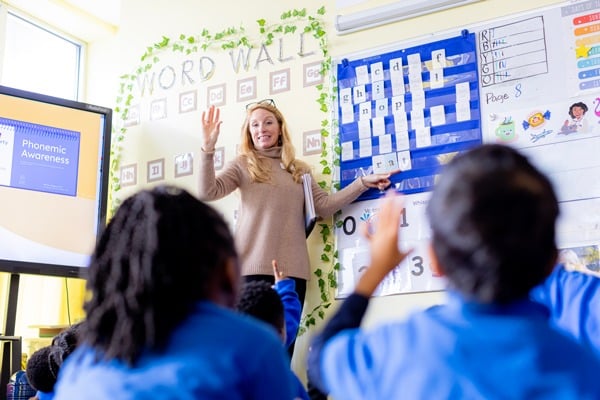 How Groves Literacy Partnerships Differ
The way children learn to read and how many teachers are trained to deliver literacy instruction from higher education institutions are not aligned (2019, Hanford). However, teachers working in schools who establish literacy partnerships with us are trained in proven, evidence-based methods for sparking reading and spelling skills. In addition, teachers receive weekly face-to-face classroom coaching for an entire school year along with ongoing professional development to develop fidelity of instruction.
We Are Facing a Literacy Crisis
Empowering students to become stronger readers early can help them throughout their lives. According to the U.S. Department of Education, 70% of all incarcerated adults cannot read at a 4th grade level, so they lack the reading skills to navigate many everyday tasks or hold down anything but lower-paying jobs (2003 National Assessment of Adult Literacy).
5 Powerful Reasons Schools are Becoming Groves Literacy Partners