Who We Serve
Groves Academy is the leading school in the Midwest for students who have learning disabilities such as dyslexia, ADHD, executive function challenges, and other language-based learning disabilities. We are a beacon for students who want to learn but are challenged with a learning disability that affects their academic achievement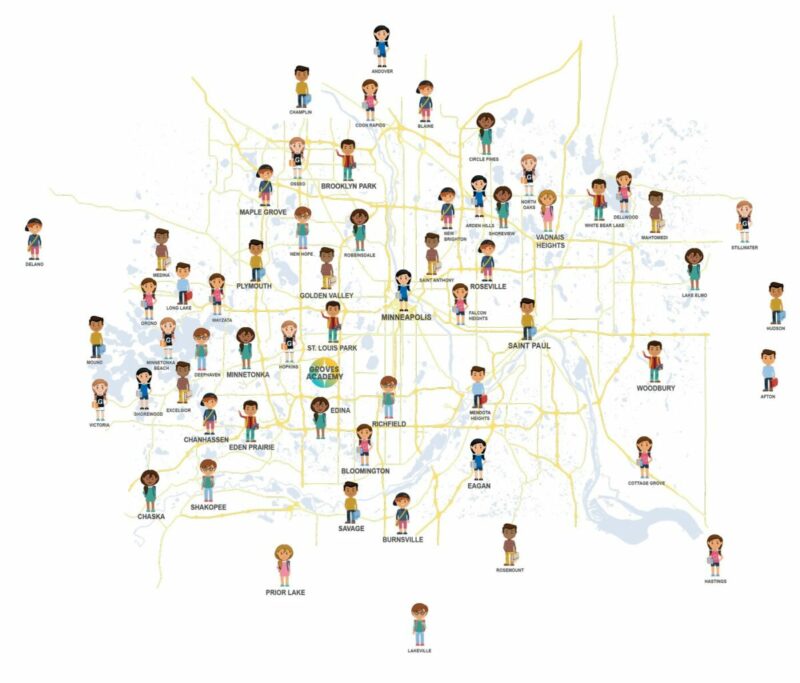 Unleashing Confidence for Lasting Success
Groves Academy is a renowned place of learning that nurtures and encourages brilliance within students with learning challenges. We understand the emotional pain that results when a child is struggling to learn. Our goal is to empower students entering 1st–12th grades to gain the skills and confidence they need to achieve lasting success. We work with students to build their literacy skills and teach them how to learn.
Every student is capable of learning; some just need a different way to learn. We believe that students learn best when instruction is direct, sequential, multi-sensory, and addresses individual strengths and challenges. Our approach to education is designed to help students reach their full potential. From our curriculum to our class sizes, everything we do is grounded in scientific research and decades of experience.
We work to understand each student's diverse learning style and skill level and meet them where they are by providing the resources and support they need to succeed. Whether that means offering a specialized curriculum or the guidance of a uniquely talented teacher with a deep understanding of learning disabilities, we have the tools to spark each student's light for lasting success in school and beyond.
Request More Information
The Groves Academy Approach to Education
Everything we do is driven by our mission to build confidence, success, and purpose through transformative learning experiences. From expert teachers, small class sizes, and specialized evidence-based curriculum, to intentional relationship development, we want to light the path for our students so they experience positive, lasting change.
Our approach to education helps students who have the ability and desire to learn but face dyslexia, ADHD, or other learning disorders. We offer instruction that is explicit, structured, and multi-sensory. We begin each subject at a level where students can experience success before confidently moving on to more advanced skills.
The highly trained teachers at Groves Academy combine their experience and expertise with care and understanding, using a diagnostic-prescriptive approach to continually assess and address individual student needs.
Organization and executive function skills are taught in the context of subject area classes. Students learn and practice essential skills in the process of learning, such as how to study for a test, how to take notes, and how to stay on top of long-term assignments.
Classes are comprised of students who are about the same age and working at about the same skill level, promoting an illuminating environment of peer support and understanding.
We use reading curriculum designed for students based on the science of reading. Students in all grades receive explicit executive functioning instruction, and each classroom features small student-teacher ratios, flexible seating, and multi-modal instruction.
"Groves Academy got our daughter back on track, renewed her hope, rebuilt her curiosity, supported her intelligence, and opened additional pathways to learning."
Admissions Open House and Tour Events
Our open house events begin with a tour and continue with a presentation and Q&A session led by our admissions team. Prospective families can meet and hear from school leadership and currently enrolled students and their families.
Click the date below to register today!
Open House and Tour January 10, 2024
Meet The Groves Academy Admissions Team
We are a community of learners and educators. Our success depends on identifying students who are a good fit with our educational program.
Our admissions team is not only well-versed in the curriculum, instruction, and extracurricular activities offered at Groves Academy, each of them is knowledgeable about learning disabilities and can provide guidance regarding our school and other resources.
Their role is to help guide the admissions process for current and future families. We invite you to come for a tour or set up an appointment and learn more about what Groves Academy can do for you.