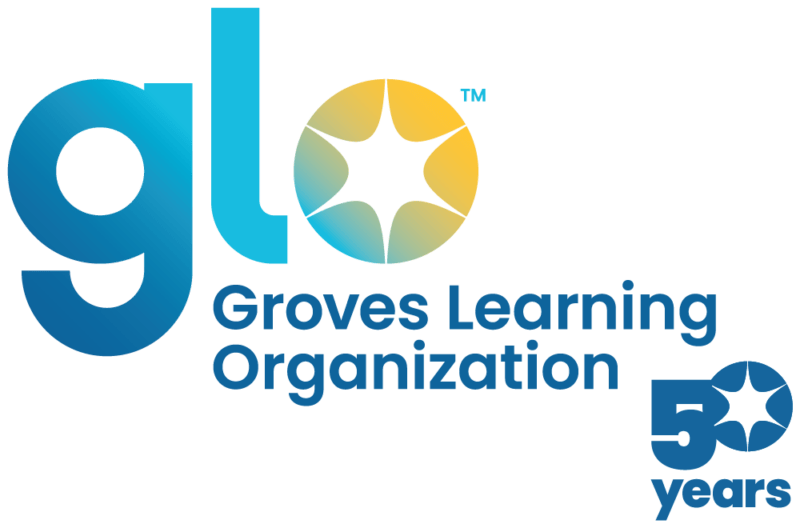 FOR IMMEDIATE RELEASE:
Media Contact: Emily Olson
651-323-8290
[email protected]
groveslearning.org
Groves Learning Organization Celebrates 50 Years of Inclusivity & Literacy Excellence
GLO's evidence-based learning and supportive relationships continue to ignite students' success
MINNEAPOLIS, March 15, 2023 – Groves Learning Organization (GLO) is celebrating 50 years of brilliance, empowerment, and inclusivity. GLO is a nonprofit educational organization that supports students in grades 1-12 who are struggling with learning disabilities and attention disorders. The nonprofit has spent the last 50 years providing evidence-based literacy instruction for its students and is continuing to make an impact across the Twin Cities metro.
"Our success comes from an ever-evolving curriculum that is derived from inclusivity," says G. Bryan Fleming, President of GLO. "We build connections with students and look for the keys we need to unlock their brilliance."
GLO attributes its growing enrollment and expanding outreach to its ability to discover every student's specific learning style and uniqueness. In 1972, Groves Academy's enrollment started with just 21 students and now serves 272 students, but the inspiration doesn't stop there. GLO as a whole now impacts more than 9,000 students through its Groves Literacy Partnerships (GLP) science of reading programming in 73 schools across Minnesota. GLO reached this impressive milestone through relentless research of evidence-based curriculum and building relationships to ensure all students feel included and supported. Now, the greater aspiration is to reach teachers and peers in every Minnesota school, and beyond.
"It takes time to develop that relationship with a student," says Kimberly Peeples, the Head of Groves Academy. "You have to earn their respect and trust. Books can't help you do that; it's something you have to invest in when you're getting to know your students. It's the secret sauce to what makes GLO special."
GLO operates on 5 core values:
Authenticity
Collaboration
Compassion
Discovery
Tenacity
Fleming says it took years of experience and understanding to develop these core values which involve inclusivity and teamwork. ​​At the heart of GLO is a community where students, families, faculty, and staff are engaged with a sense of belonging, sharing, and support. Through the ongoing literacy work at Groves Academy®, Groves Learning Center® and Groves Learning Partnerships®, GLO continues to level the playing field for thousands of children by helping them find their path to success.
Fleming says the next 50 years for GLO look even brighter. "GLO is leading the way and positively impacting the lives of students and their families, not only in the Twin Cities but also across greater Minnesota and, eventually, nationwide. Our goal is that every child, no matter what their learning difference or any other difference, can imagine and live their self-fulfilled life. That's what our mission is all about."
About Groves Learning Organization:
Groves Learning Organization (GLO) is a nonprofit educational ecosystem that empowers each and every unique learner to discover their brilliance. GLO is a beacon of learning, illuminating the path to literacy for all students. We have a rich history of supporting bright students who struggle with learning disabilities and attention disorders, as well as promoting evidence-based literacy instruction for all. Learn more at groveslearning.org.
---
NEVER MISS AN UPDATE
Don't forget to sign up for our news and blog updates in the blue box below- and follow us on social media.
LinkedIn | Facebook | YouTube | Twitter | Instagram
Share your news, success story, or meaningful moment about Groves through our online form.