Thank you to everyone who helped us celebrate a half-century of transformative learning!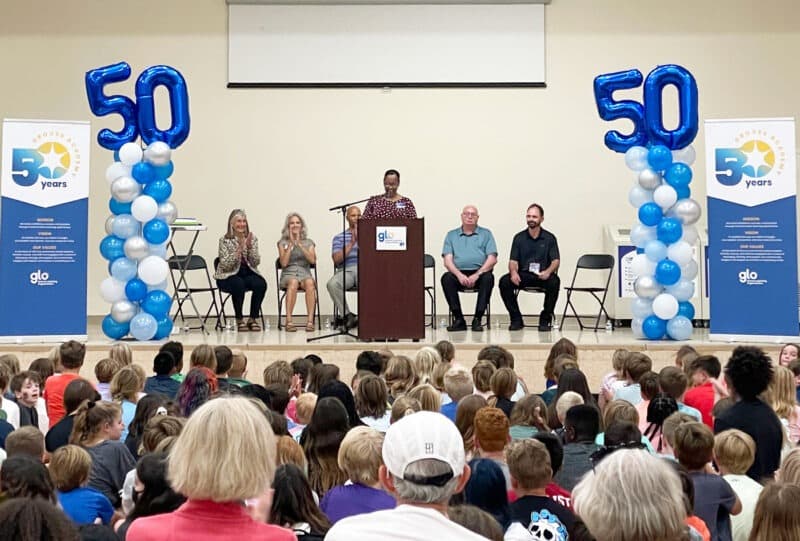 Groves Academy students, teachers, staff, and alums gathered on September 8, 2022, to memorialize Groves Learning Organization's impact on the lives of the students and families we serve. Students enjoyed outdoor bouncy houses and yard games followed by an assembly attended by local council members, a Groves founding family member, family and staff alumni, and our fantastic faculty members.
St. Louis Park mayor pro tempore Sue Budd proclaimed the day as Groves Academy Day while including the students in a fun participation game during the pronouncement. GLO President G. Bryan Fleming led the masses in singing a rousing rendition of the Happy Birthday song and was later joined by Head of School Kim Peeples in lighting the birthday candles. The Groves Academy mascot Grover Griffin played, danced, and dispensed hugs and the event closed with hot dogs and cupcakes for all.
We hope you'll join us in looking forward to the next 50 years of empowering students to students to unleash their confidence and discover their brilliance.
Sue Budd Pronouncement
---
NEVER MISS AN UPDATE
Don't forget to sign up for our news and blog updates in the blue box below- and follow us on social media.
LinkedIn | Facebook | YouTube | Twitter | Instagram
Share your news, success story, or meaningful moment about Groves through our online form.