The 2023 Minnesota Read Act Legislation: Improving Literacy for All
What is the Read Act?
Minnesota is a state that values education and is committed to improving the literacy skills of its residents. In May, the Minnesota READ Act was approved by the Minnesota legislature and signed into law by Governor Walz. The act gives $90 million plus dollars in funding to Minnesota schools to develop a literacy education framework that includes instruction based on evidence-based practices that are grounded in the Science of Reading. This legislation is a step forward in ensuring that all students have the literacy skills necessary to have successful academic experiences that lead to later success in college and career. 
The Read Act sets key literacy goals for all students:
Every child reading at or above grade level by the end of third grade

By 2026-27, evidence-based structured literacy instruction in place

Encouraged to adopt Multi-Tiered System of Support to address the needs of struggling readers

Screening for all students for dyslexia

Collect data to monitor the progress of students who are struggling readers

All school staff/teachers trained in structured literacy by 2027
The Importance of Literacy and the Read Act
We Are Facing a Literacy Crisis
The National Assessment of Educational Progress (2022) reports 68% of 4th-grade students cannot read proficiently, meaning they cannot deeply comprehend challenging subject matter. 
Literacy is a fundamental skill that is necessary for success in all areas of life, from education to career to personal relationships. The ability to read and write is crucial for communication, critical thinking, and problem-solving. In today's rapidly changing world, literacy skills are more important than ever, as they enable individuals to access information and participate in society. The Minnesota Read Act legislation recognizes the importance of literacy and seeks to ensure that all students have the skills necessary to succeed.
" We are facing the tragic results of a failure to teach reading effectively to our kids. How and when we respond matters." *
(*Peter Hutchinson, StarTribune, Writing on the wall: The kids can't read. And that's the result of a war among adults about how to teach them. We can, and must, change that now. Dec. 26, 2022).
How does Groves Literacy Partnerships (GLP) align with the Read Act?
GLP is not only aligned but offers more.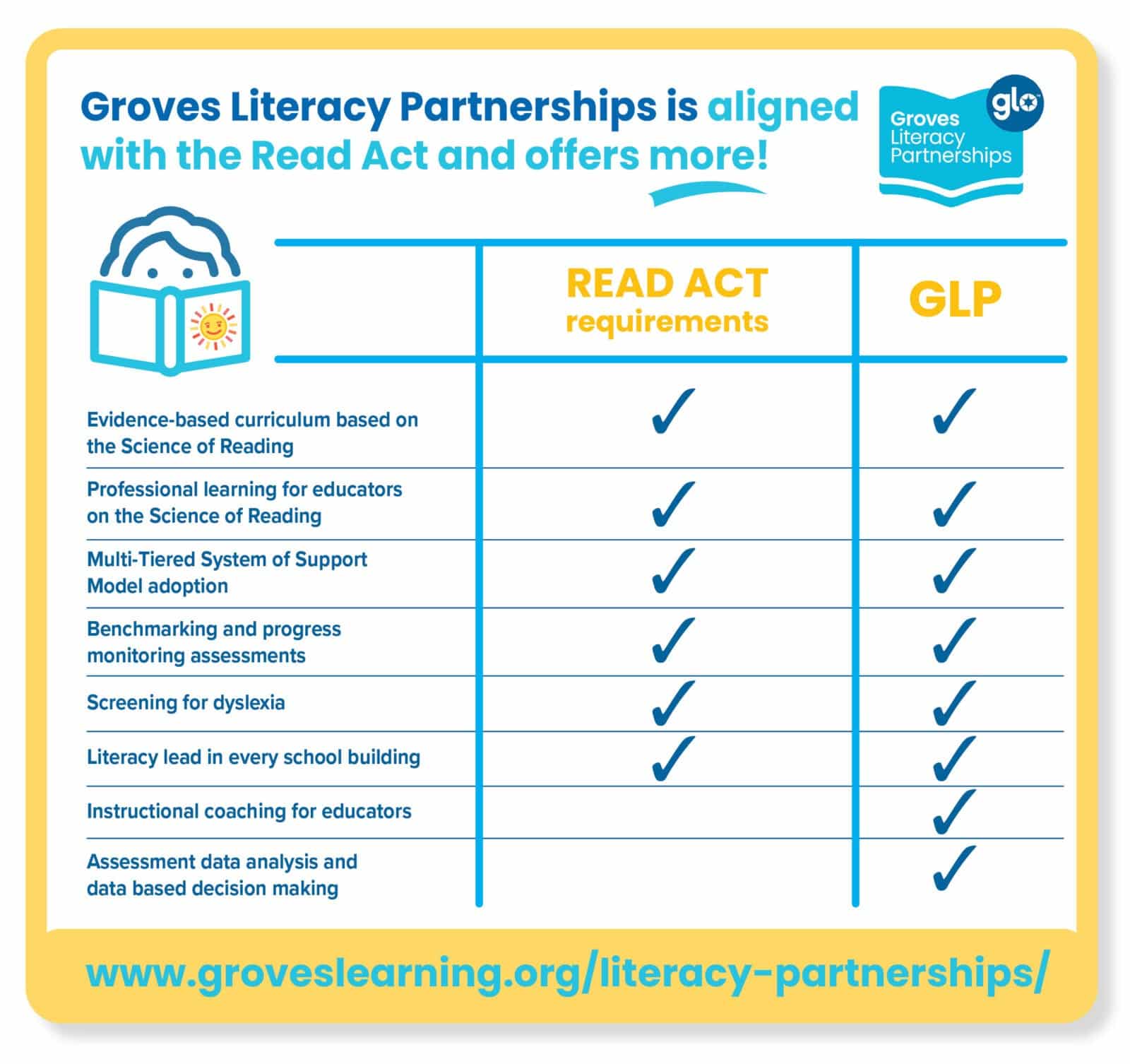 The 2023 Minnesota Read Act legislation is an important step forward in ensuring that all students have the literacy skills necessary to succeed. By requiring all students to be on or above grade level in reading by the end of third grade and providing early intervention services for struggling students, the Act is setting students up for success in all areas of life. Through this legislation, Minnesota is demonstrating its commitment to education and to improving the lives of its residents. Groves Literacy Partnerships is committed to future literacy achievement growth for Minnesota students and educators.
This act will help us achieve our wildly important goal, for ALL students."Every student will be at, or above, grade level in reading: RELENTLESS FOCUS ON LITERACY!"
---
Become a Groves Literacy Partnership School!
Groves Literacy Partnerships is proud to be working together with 85 schools in the greater Twin Cities area, cutting across all demographics, and serving over 10,000+  K-3rd grade students just this year, delivering powerful reading and literacy instruction.
Learn more about becoming a Groves Literacy Partner
Request information about Pre-K–3rd-grade Literacy Partnerships
---
NEVER MISS AN UPDATE
Don't forget to sign up for our news and blog updates in the blue box below- and follow us on social media.
LinkedIn | Facebook | YouTube | Twitter | Instagram
Share your news, success story, or meaningful moment about Groves through our online form.
 © 2023 Groves Learning Organization. All rights reserved.