Groves Academy® was born in the fall of 1972 by four intrepid families seeking to create a school and educational environment that would best serve their children, and others in the community, who sought and required a different approach to teaching. Since then, Groves Academy established itself as the premier location in the Midwest for the education and support of students who experience learning challenges. For decades, the Twin Cities knew Groves as that big red brick building right on Highway 100 in St. Louis Park–a school for kids who learn differently. Of course, that was and will always remain true, but we are that and so much more these days.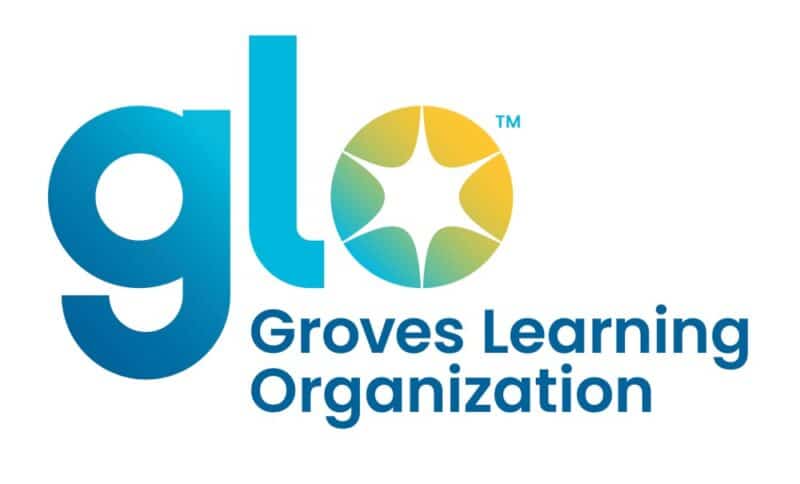 We have a new name, and a new look, and in the coming months, you will see our rebranded website and social channels, new signage, and more!
This all begins with our new name: Groves Learning Organization™, or GLO for short. Groves Learning Organization (GLO) is an ecosystem of educational resources to build literacy for all students, including students who learn differently, and helps all students unleash their confidence to succeed. GLO promotes evidence-based literacy instruction and empowers every student to discover their brilliance. We strive to be the leader in these areas and make positive and lasting changes in how human beings are educated. We will do this through the three components of GLO.
GROVES ACADEMY: Our School
Groves Academy is a renowned place of learning where students are empowered to unleash their confidence and fuel their success in school and beyond. Groves Academy attracts students from across the region and the nation, giving them a welcoming and safe space to nurture their brilliance. Here, we ground everything we do in scientific research and decades of experience, from our curriculum to our class sizes.
Groves Academy gets its name back!  Moving forward, whenever we mention "Groves Academy," it will only mean our school, and we will remain the Groves Academy Griffins.
GROVES LEARNING CENTER™: Diagnostics, Tutoring, and More
At Groves Learning Center, we share our proven methods with those who need them outside of Groves Academy–providing diagnostic assessments with our in-house team of expert psychologists, one-to-one tutoring, speech-language services, and summer programs. By reaching out to students in their communities, we can work with each student to determine the cause of their struggles, create individualized solutions, and ultimately help spark greater confidence.
GROVES LITERACY PARTNERSHIPS®: Literacy Coaching and Curriculum
Groves Literacy Partnerships (GLP) shares our evidence-based literacy instruction with fellow educators in the community so that all students learn to read, illuminating the path to enhanced literacy. Working together, we help students of all reading abilities shine brightly by using the Groves Literacy Framework® developed at GLO, which is rooted in decades of literacy and brain research. Partner schools use the Groves MethodTM Literacy Curriculum for All for grades K-3 to help ensure students learn to read by the third grade.
The past nearly two years generated (forced) so much change in education. The need for an organization that can lead and partner in elevating how we teach human beings has never been more apparent. GLO strives to be that for the Twin Cities, Minnesota, and beyond. We believe that literacy is foundational to individual and collective success and prosperity. Literacy unlocks our potential, promotes agency, and is a vital channel for creativity and self-expression. Our mission is and will remain, to build confidence, success, and purpose through transformative learning experiences.
Our 501(c)(3) name/status will remain Groves Academy, while the organization will begin doing business as (DBA) Groves Learning Organization (GLO). 
---
LinkedIn | Facebook | YouTube | Twitter | Instagram
Share your news, success story, or meaningful moment about Groves through our online form.